Introduction
Excavator attachments are the most important part of construction sites. There are so many activities that need to be done at construction sites. You need to use different equipment to perform multiple jobs at the site. Excavators play a key role in achieving the completion of the project. You can dig, trench, landscape, and much more using excavators at the site.
However, you must think, how is this all possible with only excavators? Well, the attachments of excavators make it all happen. You can use different attachments for different types of tasks. If you are unaware of how attachments work, this article is in the right place. When selecting an attachment for your excavators, you need to consider multiple factors such as types, specifications, and much more.
You can also ask the manufacturer to send you the required attachments and the excavator when importing excavators. It is important that you should buy the attachments from the same manufacturer. It is because every brand has its specifications for its excavator models. So you need to choose wisely.
In this article, You will learn about multiple excavator attachments and how to use them. For example, some common attachments are:
Grapple
Hammer
Buckets
Drilling Auger
Quick Hitch
Ripper
Hydraulic Thumb
Thumb Bucket
Tilt Rotators
Tilt Couplers
Chuck blades
Forks
Rakes
Adapters
Grading beam
Brush cutters
Mulchers
Concrete breakers
Log Splitter
Wheel compactors and plate compactors
Trenchers, and much more.
So what are you waiting for? Let's dig into the article to learn more about it.
What Are the Benefits Of Using Excavators Attachments?
Some of the advantages of using attachments of excavators are given below:
Cost Effective
If the right attachment is used, it can save money, as using the right attachment for the excavator will do all types of tasks on the construction site and enhance your productivity. It is very easy to add an attachment and will also give impressive results if you work with attachments.
Safety
The safety of your employees is very important. Using an attachment with your excavator will take safety to a different level. Protecting others and yourself from harm reduces liability and shows people that you care about the people. So a little bit high price will offer an incredible return if you consider safety from a serious accident.
Accessing difficult areas
Using an attachment, you can get your excavator where it is difficult to reach. As it grips the ground and traction is improved. If using a perfect attachment, you can get to areas that are impossible to reach. It is very thrilling to see this process in action.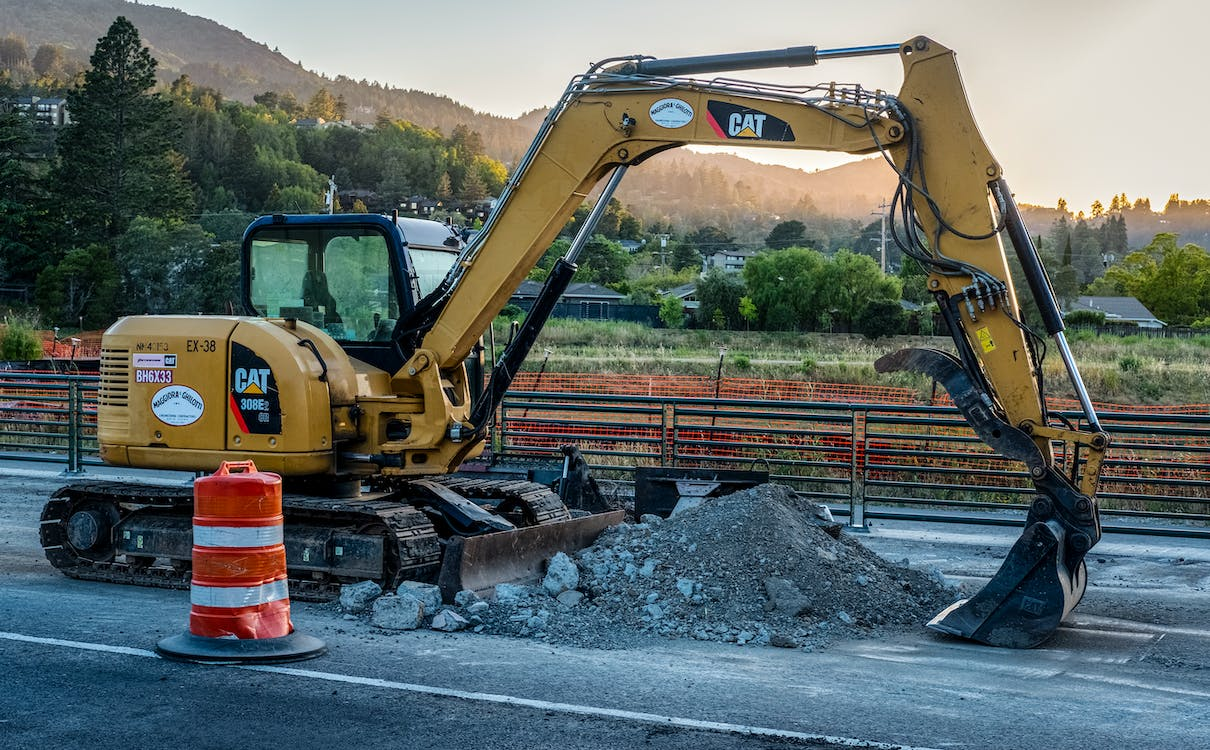 Attachments Used In Excavators
Buckets
A specialized container that is attached to an excavator is called a bucket. This is used for material handling at bulks. Unlike other attachments used in excavators, the bucket has inner volume. The bucket is mostly used as an attachment. Most cases are standard configuration on excavators.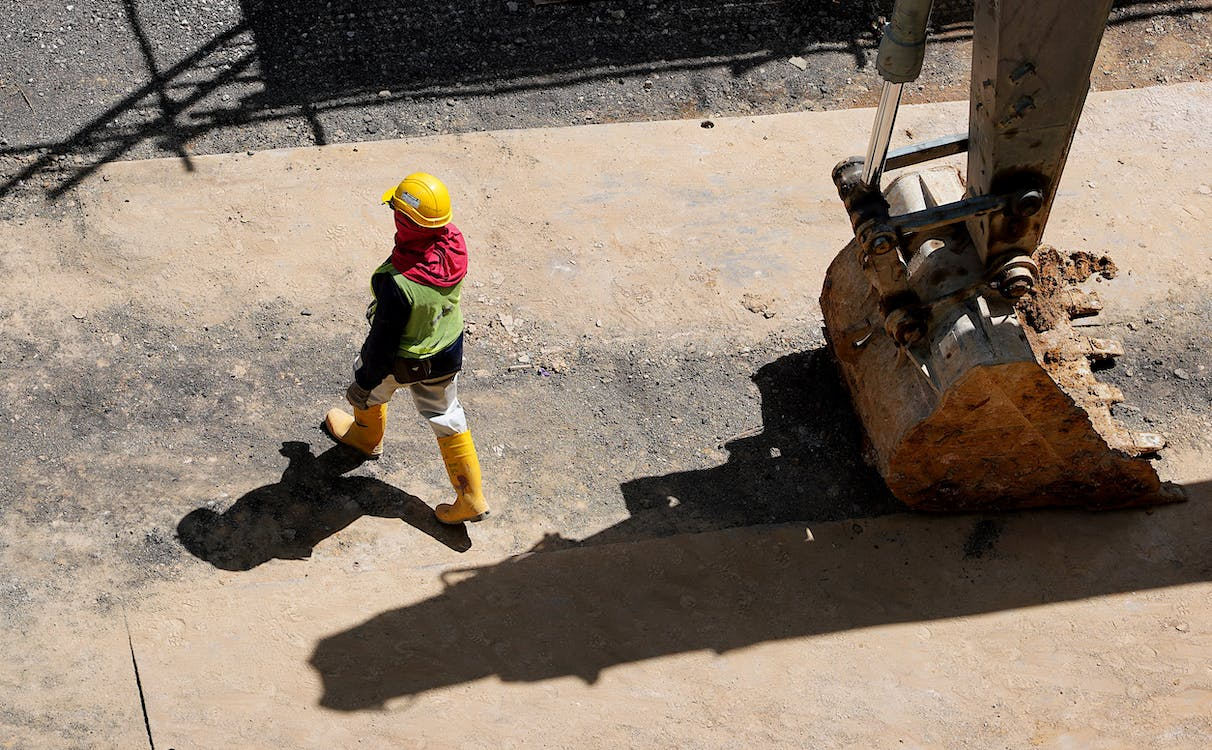 There are various types of buckets. Some of them are given below:
Tilt Bucket
Tilt buckets are almost used in all worksites. The tilt bucket has the correct shape with sharp edges. Its efficiency in digging can be maximized if using the proper form. Due to the Sharp edge of the tilt bucket, you can go deeper into the earth. The tilt bucket is advanced and allows better control for the operator in digging and trenching.
Sieve Bucket
Sieve buckets are used for removing hard materials, for example, rock but soil will stay put. It sorts out a different material as its bucket is like a screening device. Using the cutting edge of the sieve, bucket materials are dug better.
Crusher Buckets
The crushing bucket is used to get rid of unwanted material during demolition. It is used in many jobs, for example, recycling, excavation, piping, mining, and quarrying.
Compaction Plates
The construction site is often messy, so it is required to flatten the surface and make it smooth. For this purpose, you will need compaction plates. These are used to tidy or neaten up the ground surface. You can use small compaction plates by hand, but big ones are used as excavator attachments. The compaction plate has high versatility.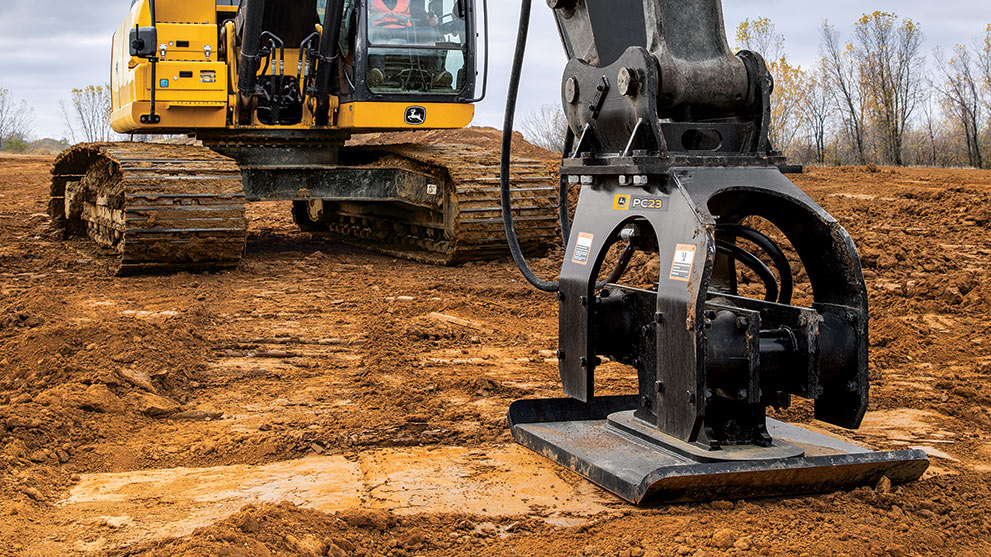 Compact plates are known to be versatile for a reason. You can also use these plates to narrow the trenches. In simple words, compact plates can be used for so many jobs.
Compaction Wheels
Compaction wheels are not the same as compaction plates. These wheels are used to reduce soil or waste material in worksites. As in the name, it compacts the object. Workers sometimes use this to save money, but the process is slowed. So it is better to use compaction wheels on the machine.
Due to compaction wheels, efficiency cost is reduced. They work great on surfaces that are flat or have a slope. If you want to buy or rent compaction wheels, you should look for how many types of soil it can deal with.
As some compaction wheels are valuable for granulated or mud-like soil. You should check if the wheels are made from high-strength steel with high-quality roller bearings.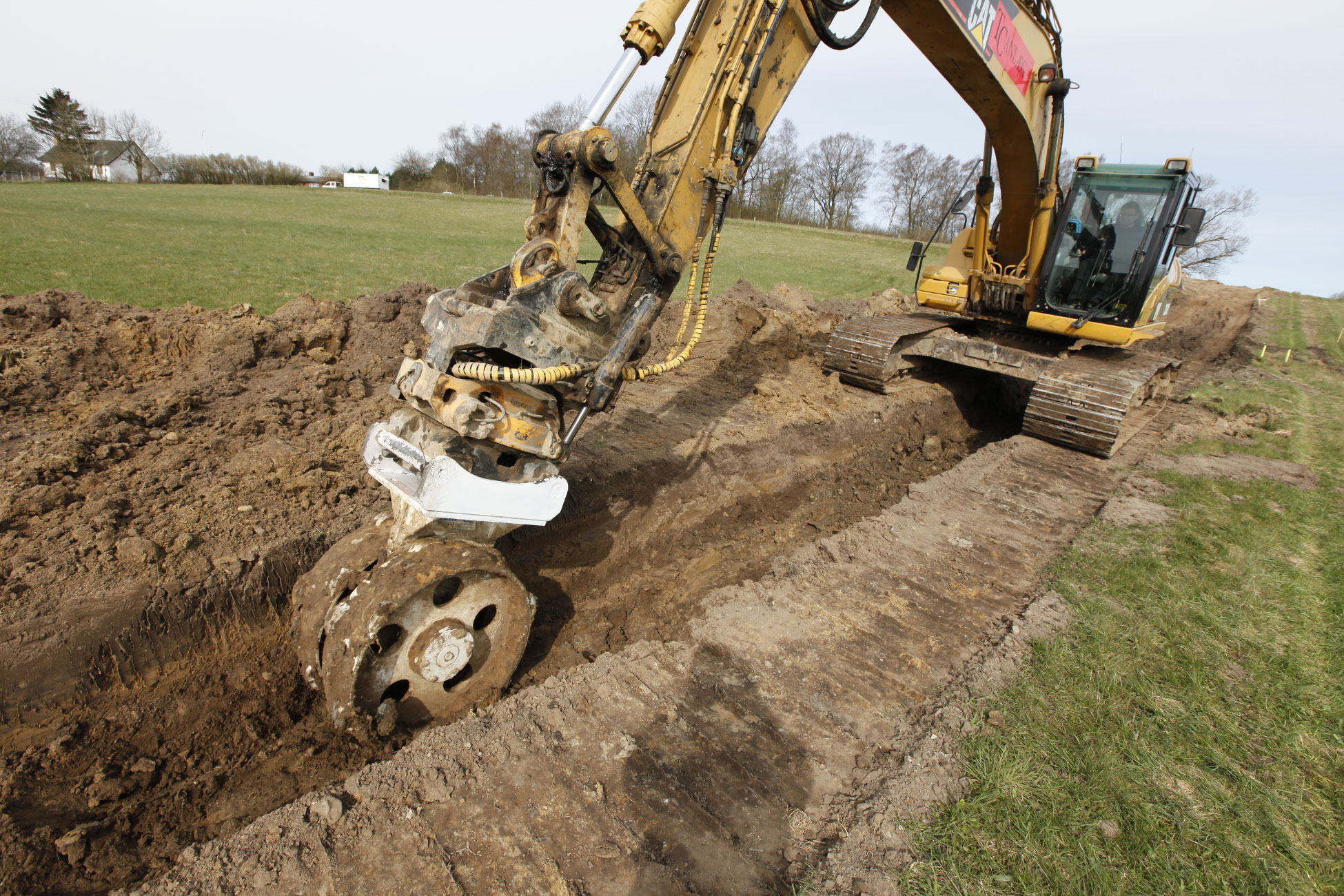 Grabs
Grabs are an attachment used in an excavator for moving heavy rocks around the construction site. For grabs, you need high precision to perform tasks; for instance, the balance should be excellent when working. Otherwise, it would cause a serious accident.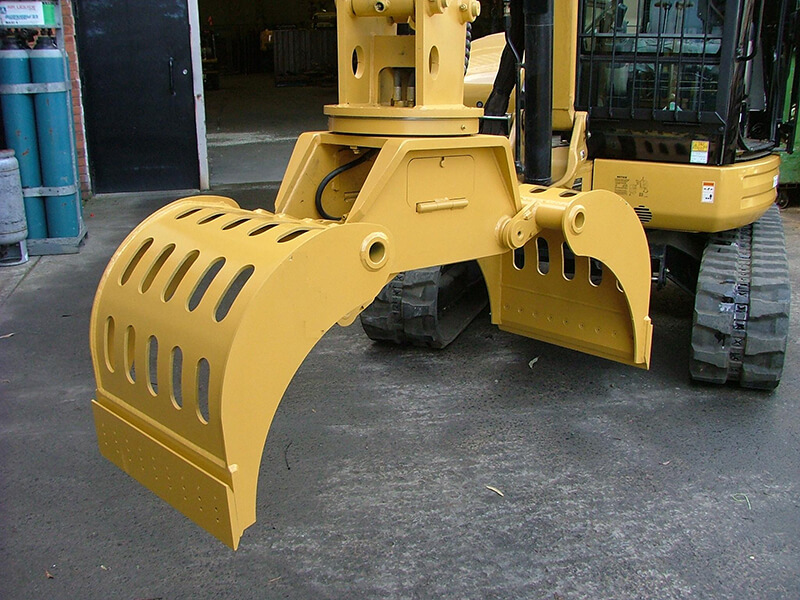 Before buying or renting a grab, you should check if it can resist wear. This attachment has fingers that can wear out or corrode hence more risk of losing grip. Maintenance is very important for grabs. You should replace fingers if it has faults. Pivot pins should be hard and rigid to have better and stronger control.
Pulverizers
Pulveriser is a type of attachment for excavators that ranges from 14T to 80T. These are also versatile. These are used to recycle waste after the project is demolished. It can easily crush concrete and separate rebars and scrap—one of the biggest advantages of using a pulverizer as an attachment is that it can recycle waste on site directly. Hence saving time.
Pulverizers have cruciform teeth that crush concrete. Due to its versatility, you do not need other devices or extensions on the construction site, saving money. For example, instead of buying a crusher bucket, use a pulverizer for crushing objects and recycle that item directly.
Rippers
Ripper is a type of attachment that is a very helpful addition to an excavator. For an experienced operator, it is very easy to use. The process of ripper attachment is that it just rips up the ground. It has a distinct appearance.
Ripper can be easily recognizable as they look like a sharp curved dinosaur's tooth. Rippers break hard surfaces such as paved areas or frozen ground. Construction sites prefer rippers over other attachments as they do not produce much noise and can operate quickly.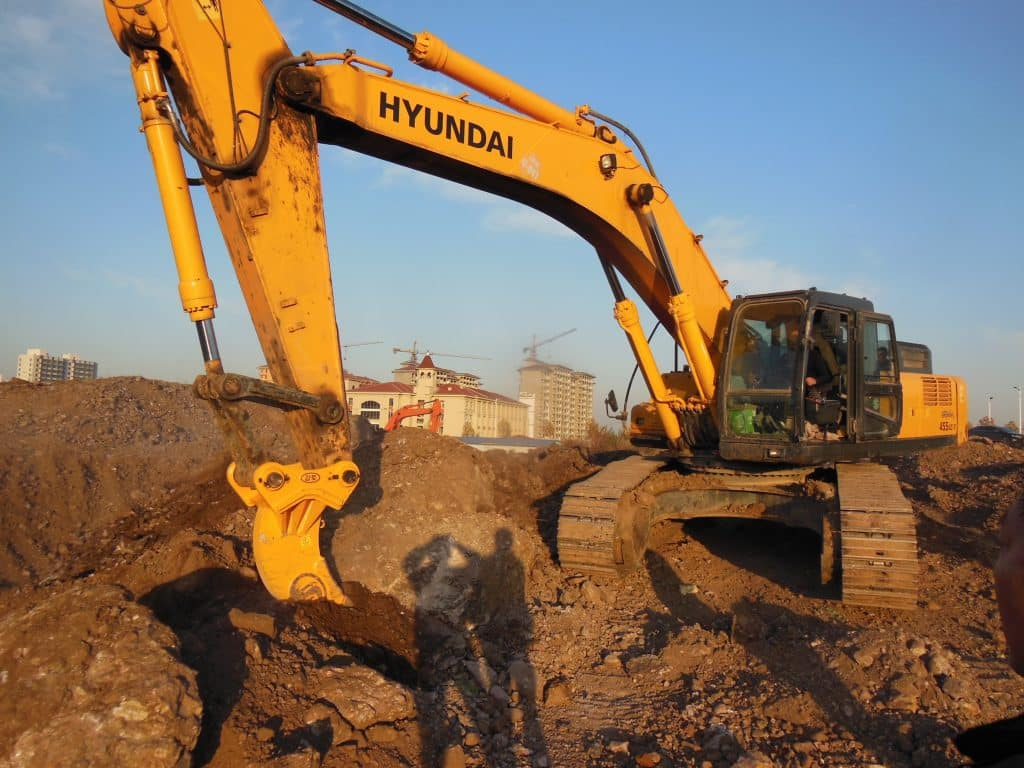 Some uses of rippers are
To dig trees, taking them out from their root
Remove or loosen up a rock
Break up Ice
Rock Saws
Excavation of tough material is common in many construction sites. For instance, digging in thick rock. You need to cut through roads or concrete. For these purposes, a rock saw is used.
Operators have good control over rock saw despite being large and high-powered. Experienced workers should operate this attachment as this machine requires high accuracy.
Rock saw is used to cut a specific part of a building. This is a very difficult job as it requires great precision simple mistake would harm the whole structure or worse. These types of attachments come in different sizes as well as different varieties. So pick up a blade that gives a precise cut.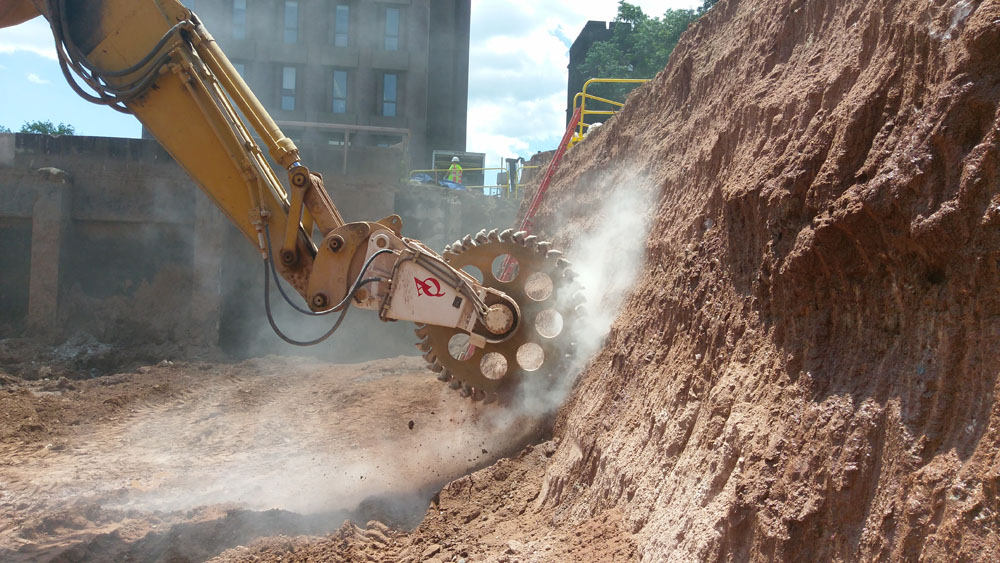 Trenchers
An Excavator trencher is used after entering the ground. Trenchers are used to digging trenches. You can also use other attachments for performing these types of jobs, for instance, bucket. Trenchers are much faster and better than other attachments.
Trenchers can outperform up to four excavators when digging a trench in rocky strata. Trenchers reduce the time of the digging process. Sometimes construction projects have strict deadlines. In this case, trenchers are used.
Using trencher, you can complete multiple steps in just one pass. For instance, if you are cutting trenches, you can produce the correct backfill. Trenchers can deposit backfill.
Choosing The Right Attachment For Mini Excavator
If the proper attachment is used, it is easy to operate and maneuver. Choosing the right attachment depends upon the type of excavator you are using; for example, if you are arousing a crawler excavator, you should check equipment dimensions and the front linkage.
Excavator lifting power should also be considered based on the dimension and geometry of a machine. For compact excavators, using attachments such as swing boom, articulated boom, and side shift boom increases the machine's weight. Linkage geometry is also different in compact excavators. So it is better to use a lighter attachment on the compact excavator.
As for mini excavators, there are more tools that could be attached, such as hammer, auger, grapple, rake, etc.
The Bottom Line
When you use an excavator on the construction site, you must use it with the correct attachments. When importing excavators from another country, choosing the right attachment from a local market can become difficult. Therefore, you need to contact the manufacturer of your excavator to give you the right attachments.
It is important to purchase your excavator and attachments from the right manufacturer. Contact Us now if you are looking for a highly reliable manufacturer from China.